"Torches aloft" to Glastonbury: negotiating norms in the discursive construction of marginalised intangible cultural heritage in Cornwall, UK
---
The ambiguous place of minoritized European indigenous cultures – as both majority and minority, as resembling mainstream culture yet distinct from it – means that knowing how to talk or write about it appropriately can be difficult.
In this paper, presented at the 2022 Association of Critical Heritage Studies conference, Project Leader Laura Hodsdon reflected on how Cornish intangible heritage appears in a sample of public discourse.
---

This presentation will be written up fully in one of our forthcoming peer-reviewed publications – more info soon. In the meantime, this is the abstract for the presentation, delivered as part of the Heritage, Power, and Contestation strand: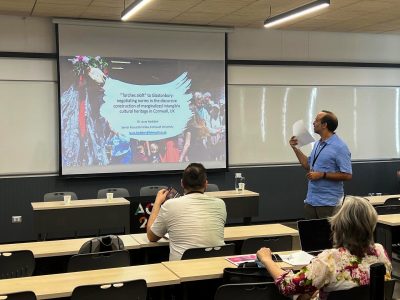 The European Charter for Regional and Minority Languages recognises over 200 national minorities within just 25 countries, yet European nations are often perceived as culturally homogenous. Cornwall, in the United Kingdom's far south-west, is one region in which autochthonous heritage sits uneasily in relation to the dominant, national narrative. Stereotyped imaginaries are mobilised by literature, television, destination-marketing, and cultural and economic policies.
Nevertheless, since the 1900s, Kernewek, the Cornish language, has been undergoing a revival, alongside Cornish cultural traditions. Its marginality renders it fragile: susceptible to dominant narratives and practices, lack of visibility and in turn lack of resource, fragmentation, and endangerment.
Nevertheless, this intangible cultural heritage (ICH) is a key enaction of minority culture, whether a continuing practice such as Padstow Mayday, or revitalised such as Golowan in Penzance.
Seeing ICH as a contemporary social practice – rather than a vestige from the past to be preserved – raises questions around the role of society as a whole in engaging with ICH, not least given pluralising shifts in the demography of traditional ICH areas. The everyday discursive landscape that mediates these encounters is constructed by various social actors: institutions (tourism and heritage organisations, local and national media, councils and cultural organisations) and individuals (tourists, permanent and temporary residents, creative practitioners).
Drawing on a dataset of web and media texts and field interviews, I focus on Cornish festivals as one manifestation of ICH, and consider how they are discursively constructed by insider and outsider social actors, to uncover power dynamics, overlapping or contradictory perspectives, and paths to identify practical means of amplifying and integrating marginalised heritage to enrich the culture as a whole.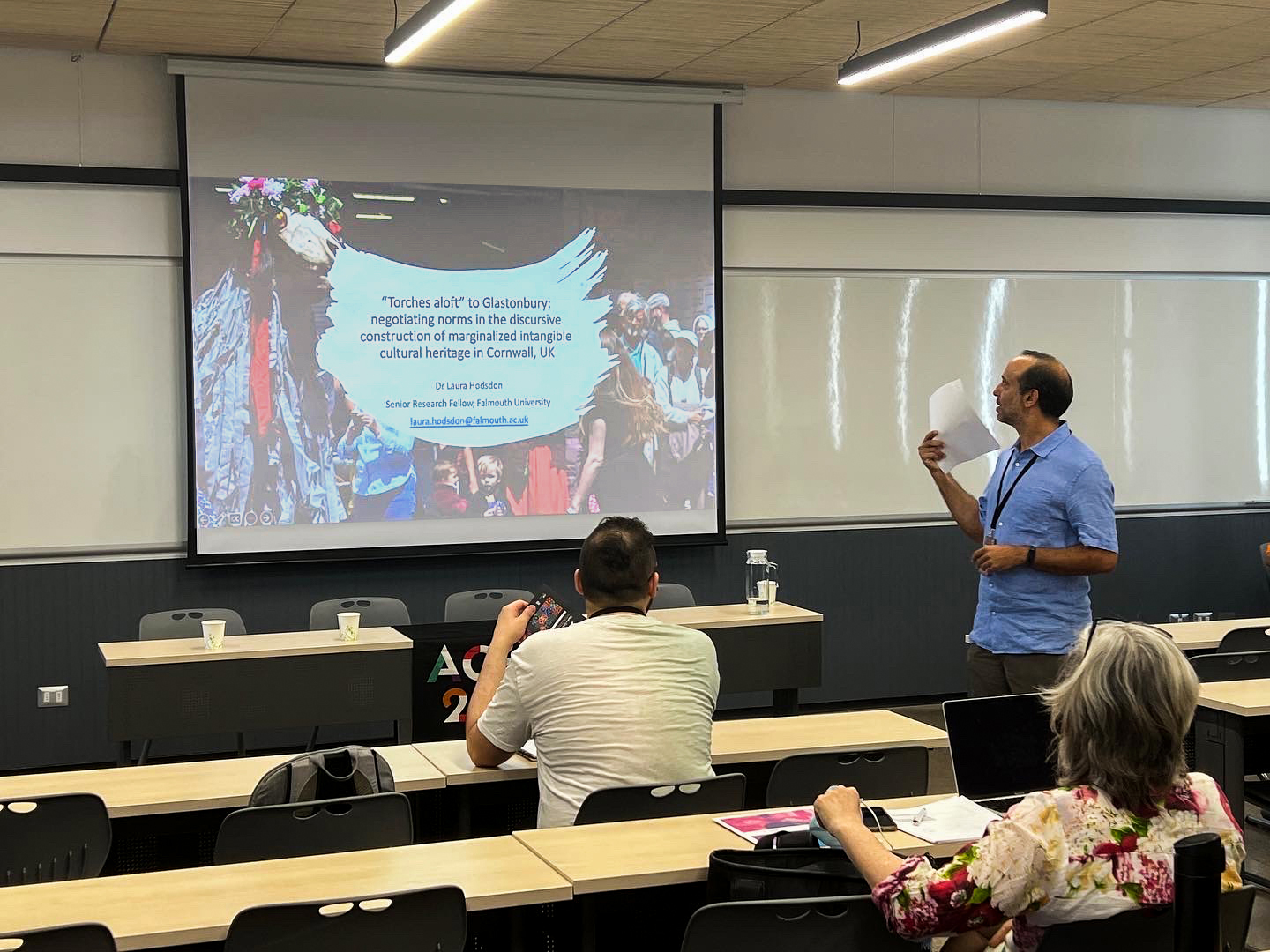 The Future of Critical Heritage Studies Panel at the Association of Critical Heritage Studies conference in Santiago, Chile, December 2022.